Professional fence contractors serving Bay County residents and business owners
At Bay County Fencing, we're proud to match you with contractors who offer top-quality fencing solutions to Panama City and the surrounding areas. Our team of experienced professionals can handle any job, big or small! Our partners offer installation services for residential and commercial properties as well as fence repairs and maintenance. No matter what your needs are, you can count on us for a professional service that is both reliable and cost-effective.
We understand that having quality fencing is an essential factor when it comes to maintaining property security and privacy. That's why our partners only use the highest quality materials in our installations. Additionally, our experienced installers are considerate of your property and take care to ensure that the job is done right.
Custom fencing and gates built with unrivaled craftsmanship
At Bay County Fencing, our partners offer a wide range of custom fencing options so you can create the look and feel that's just right for your property. Our partners specialize in various fence materials, including vinyl, wood, chain link, aluminum, and more! Our skilled craftsmen will work with you to design a solution that perfectly meets your needs — whether it's for security, privacy, or simply aesthetics.
Competitive rates and quality service you can rely on
We believe in providing our customers with quality service at competitive rates. That's why our prices are always fair and transparent, so you know what to expect. Our customer service is top-notch, too, as we understand that communication is vital to any successful project. We are always available to answer questions or address any concerns you may have throughout the entire process.
For quality fence installation and maintenance services in Panama City, FL, look no further than Bay County Fencing. Our experienced team is here to handle any job, big or small—and we'll make sure you get a great price too. Contact us today for more information about our services and let us show you why we're the best choice for all your fencing needs!
High-quality installation services tailored to your needs
Fences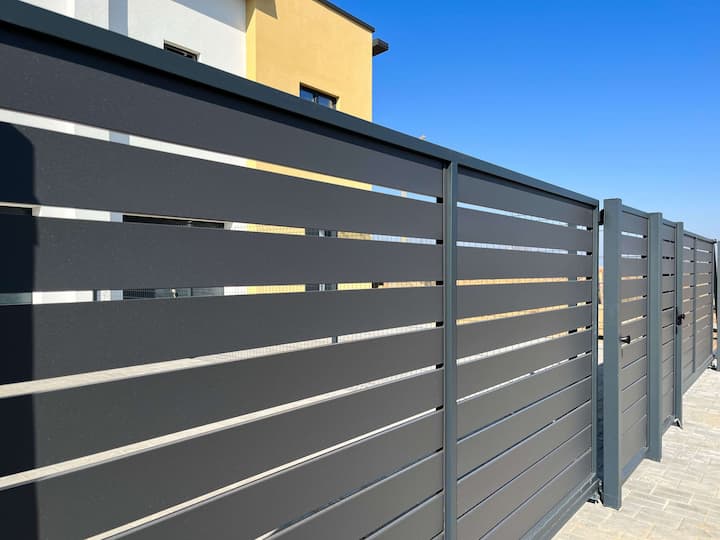 Fences give privacy, security, and visual appeal while separating your property from your neighbors. With so many fence choices, choosing the right one may be difficult.
Bay County Fencing knows that constructing a fence is a big commitment, so we want to help you decide. We provide several home fence choices to satisfy individual needs and tastes. Our residential wood fence is quite popular. It adds charm and warmth to your home. The wood fence provides seclusion and security for homes. It's ideal for families with kids and dogs because it may be private.
Vinyl fence is low-maintenance and weatherproof. It comes in various colors and styles, allowing homeowners to match their homes. Vinyl fencing is a good choice for homeowners who desire a wood-like fence with less maintenance.
Chain-link fencing is a safer alternative. Homeowners like it since it's cheap and secure. For houses with a view, it's a good choice. Finally, modern homes look great with an aluminum fence. It's weatherproof and low-maintenance. Aluminum fencing offers protection, beauty, and an excellent view for homes.
Bay County Fencing understands that choosing residential fencing can be overwhelming. Our fence installers have years of experience, helping you in choosing the right fence for your property.
Fence Services
Gates
Installing a home gate is a significant investment. Bay County Fencing recognizes the significance of residential gates and provides a comprehensive selection to fit your requirements.
More safety is a significant advantage of installing a gate at your home. As a physical barrier, it can prevent unwanted visitors from entering your home, giving you and your loved ones additional security. You may choose a gate that fits your specific requirements for safety among our many available solutions.
Your home's curb appeal will increase thanks to the addition of a residential gate. It offers a sophisticated appearance that might improve your home's first impression. Our various materials and styles allow you to pick an entrance that fits in with the aesthetic of your home and enhances its curb appeal.
A residential gate serves several purposes, including enhancing the value of your home and providing security and beauty. It's a big bet, but the added value to your home might make it worthwhile. A gate that is both appealing and in good repair may do wonders for your home's selling value.
Some of the home gate choices Bay County Fencing provides are swing, sliding, and automatic gates. To ensure that your property's entrance meets all of your security and aesthetic requirements, you may rely on the assistance of our knowledgeable fence contractors.
Gate Services
How to find the right fence contractor for your fence or gate installation
Making the right decision when it comes to selecting a fencing contractor can be difficult. Homeowners have the responsibility of researching potential contractors and selecting one that is trustworthy, reliable, and capable of completing the job in an effective manner. Taking these steps will result in finding a reputable fence installer who can complete the job correctly and efficiently:
Research reputable fencing companies
Finding a reputable fencing contractor is an important step in the process of installing a fence. It is important to research fencing companies before choosing one, as there are many options available. The internet can be a helpful tool when researching a variety of fence installers.
Ask questions and request references
Once you have identified a few reputable fencing companies, it is important to ask questions and request references. This will help you make an informed decision regarding which contractor best suits your needs. Here are three key considerations when asking questions and requesting references:
1. Ask the company about their experience in working with the type of fencing you desire.
2. Inquire about the warranty they offer for their work as well as any additional services that may be included in the cost of installation.
3. Request references from previous customers who can provide feedback on the quality of work and customer service provided by the company.
Verify licensing requirements in your area
It is important to ensure that the fencing contractor you are considering is properly licensed. Licensing requirements vary from one state to another, and even from one municipality to another. In order to be sure that the contractor you have chosen is legally qualified to do the job, it is necessary to check with the local government and make certain that the required credentials are up-to-date.
Most states require all fence contractors performing work of a certain type or cost level to be licensed. If this is the case in your area, then only a licensed contractor should be hired for the job. The license will usually include details such as insurance coverage and bonding information. This information can help safeguard you against any potential problems arising during or after completion of the work.
Check credentials of fence installers
After verifying that a fencing contractor is properly licensed in the area, it is important to check the credentials of any potential fence installers. A reliable fencing contractor should have experienced and knowledgeable staff who are capable of completing the job correctly. Before hiring a contractor, it is important to research their previous work and ask for references from past customers. Additionally, they should be able to provide proof of insurance and workman's compensation documents. Requesting a portfolio of completed projects can also help show the quality of service they provide.
Review fence contractor quotes carefully
When finding the right fence contractor, it is crucial to review their quotes carefully. Quotes should always be obtained in writing and should include a full description of all costs associated with the project. Cost estimates should also include any applicable taxes, fees, or additional charges. It is important to understand the terms of the quote and to ask questions about any items that are not clear. This will help ensure that the contractor is able to provide the desired services for a fair price.
The quotes should also include information about warranties or guarantees for materials or labor, as well as information about how long it will take for completion of the project. All contractor bids should be compared side-by-side, and then evaluated on cost, quality of materials used, customer service reputation, experience level, and timing of completion. When comparing prices among different contractors, it is important to make sure you are comparing apples-to-apples with similar products and services offered by each contractor.